Leaking DSV/Wet Intake Hose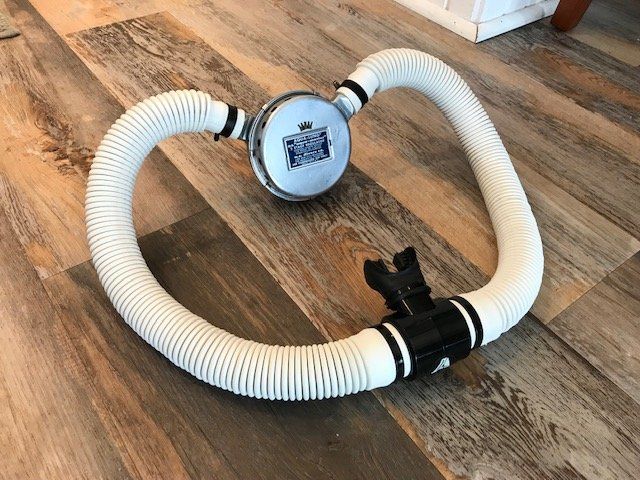 - I have two DSVs that I was servicing lately. I was replacing the O-Rings in both of them. One of these originally came WITH Wagon Wheels and the other did NOT come with wagon wheels. The one that didn't come with wagon wheels has always fit the wagon wheels loosely. So this time, after replacing the O-Rings, I also wrapped one layer of electrical tape around the outside of the wagon wheels and that snugged up the fit perfectly.
- The first DSV that came WITH wagon wheels... I never removed the wagon wheels before and they didn't feel loose, so after replacing the O-rings in the mouthpiece, I left them alone and just put the hoses back on.
- Well after testing everything to be OKAY in the pool, I decided to switch these mouthpieces and regulators. So, I took the hoses off. And the one that had original wagon wheels had a soaking wet intake hose. In contrast the one with the electrical tape wagon wheels had a bone dry intake hose.
- So, I put the hoses back on the wet one and did a suck test... Sure enough the intake hose was leaking. So I replaced the hose clamps and did the suck test again. Still leaking. the hoses are brand new so it wasn't a leaking hose... Must be a wagon wheel valve. So now FINALLY I took the wagon wheels out of this DSV and look what I found...
- It's a special wagon wheel with an O-ring around the middle. I'm thinking the O-ring has far less sealing area than an original wagon wheel. So, I took off the O-ring and now the wagon wheel fit loosely like the other DSV. So, I put one layer of electrical tape around it and that snugged it up nice. Put it all back together and tested again at the pool. Now the intake hose is bone dry like the other DSV.
--------------------------------------
- Final Thoughts ..
. Until now, I didn't really learn how to use the DSV to keep your mouthpiece dry. I was using it primarily to keep from free flowing at the surface. Here's what I think is the correct process:
1. Turn the mouthpiece DOWN (closed) before removing it from your mouth. This seals dry the large internal chamber of the mouthpiece.
2. Put the mouthpiece back in your mouth in the down position and (before turning it back up) blow gently to clear the water from the small outer section of the mouthpiece. You can feel the water squirting out of it under your lower lip.
3. Now turn the mouthpiece up and there will be no more water to clear. This comes naturally after a little practice.
-----------
P.S. How do you like the white hosed DAAM above. I got those hoses from Rob at Scuba Museum!